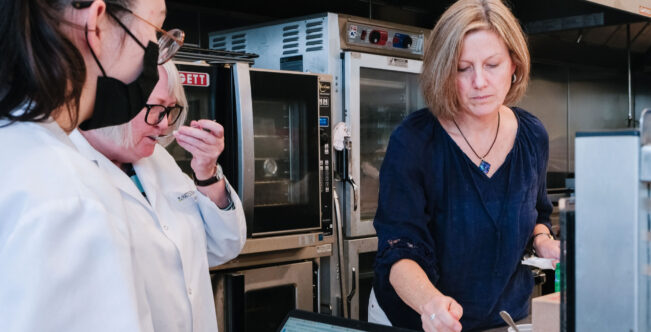 12-15-2022
Honey Baked Ham Case Study: From Holiday to Everyday!
At Mattson, we are masters of INNOVATION, which is not only about bringing new-to-the-world products to life.
It's also about keeping your product portfolio fresh & meaningful, making it more sustainable, nutritious, efficient, profitable… the list goes on.
We call this OPTIMIZATION, through a process of renovating what you have: keeping the good stuff, and strengthening the rest.
HERE'S AN EXAMPLE OF HOW WE DID IT FOR OUR CLIENT
THE CHALLENGE
The objective was to refresh and reformulate The Honey Baked Ham Company's line of frozen side dishes to have appeal year round – not just during the holidays. Another key goal was the use of clean ingredients, as their existing products contained unnecessary, non-kitchen-friendly ingredients.
OUR WORK
We ideated with the Honey Baked team using ProtoThink, our social ideation community. After identifying potential side dish trends and concepts, we conducted a TURF analysis to determine the ideal assortment from among 30-some side dish options. We rapidly formulated the product line with clean ingredients. And after identifying a co-packer, we led the commercialization of 11 premium clean-label, frozen side dishes.
THE RESULT
The Honey Baked Ham Company launched their line of 11 new frozen sides in the fall of 2018. The company experienced an increase of 25% in their 2018 holiday season side dish sales. They're available THIS Holiday Season as well!
—
Interested in learning more about The Honey Baked Ham offerings?
Click here
to order and sign-up for their new loyalty program and stay up to date on the latest products and news from HoneyBaked.
---
HAVE A PRODUCT OPTIMIZATION OR RENOVATION NEED?
EXPLORATION TO ACHIEVE
Cost Optimization
Nutrition Improvement, New Benefits
Claims-Making Within Regulations
Sensory Performance Optimization
Streamlining Manufacturing
Improved Environmental Sustainability
Improved Shelf Life
Cleaning Up Ingredient Statements
BY EVALUATING
Formulation
New and Novel Enabling Ingredients
Processing / Manufacturing Techniques
Packaging, Preservation Methods
And more