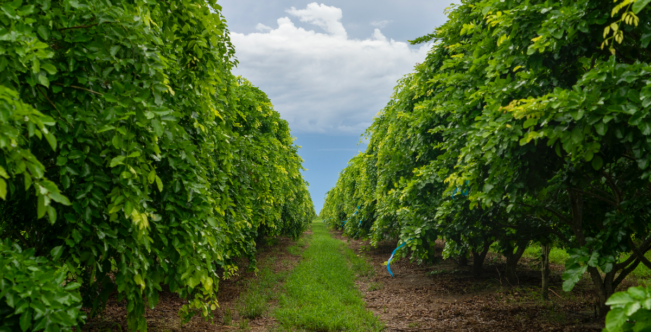 04-22-2021
Celebrating Earth Day with Terviva
Ten years ago, Naveen Sikka, founder & CEO of Terviva, set out with a bold vision to expand the pongamia tree industry from its Ayurvedic, reforestation history into mainstream agriculture.
The beans from the pongamia tree contain plant protein and vegetable oil that are nutritious and functionally comparable or better than alternatives such as soy, palm and yellow pea.  Starting in 2012, Naveen began working with Florida citrus farmers to determine if pongamia could become an alternative commercial crop for a half-million citrus acres that had been abandoned due to citrus greening.  After six years of trial plantings, the company successfully demonstrated to a group of leading citrus farmers that pongamia grows incredibly well on their land and the beans can be processed into organic, non-GMO protein and vegetable oil.
Today, after ten years of laying the groundwork to prove the viability of the pongamia trees as a platform to produce carbon-negative protein and oil, the company's mission is as bold as ever:  plant millions of trees to feed billions of people.  With their pongamia food and genetics platform, Terviva provides struggling farmers with the ability to deliver the most in-demand food ingredients with attributes that consumers now demand:  hyper sustainability, nutrition and social responsibility.
Pongamia Oil, photo courtesy of Terviva
Pongamia Mayo, photo courtesy of Mattson
Over the past year, Mattson has been working with Terviva to technically assess their pongamia plant protein and vegetable oil against similar industrial ingredients across a wide spectrum of food and beverage applications.  We have found that the unique attributes of the pongamia oil, in particular, the deep golden color and rich buttery texture, provide the opportunity for some manufacturers to create finished products of superior quality while leveraging a carbon-negative ingredient.  During the course of our work with the protein, we found that its mild nutty flavor and light color makes masking and building authentic flavor in plant-based products easier than with traditional plant proteins.
Terviva is moving quickly to commercialize the world's first carbon-negative pongamia-based food ingredients and to scale their supply chain to support current and future market demands. Soon there will be a few more tools for food developers to help them create delicious, better-for-you, sustainable products.
---
Interested in learning more about…
Terviva's carbon-negative plant protein and oil? Contact Terviva Here
How Mattson can help you maximize the potential of your ingredient, brand, or product?  Contact Mattson Here