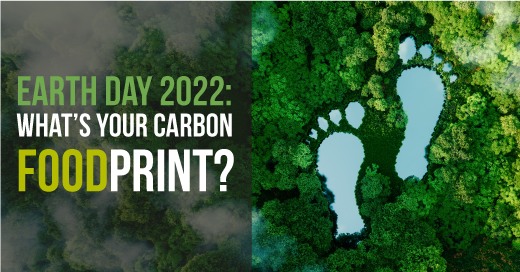 04-22-2022
Earth Day 2022: What's Your Carbon Foodprint?
Nope. Not a typo.
As a member of the F&B industry, you no doubt understand that the food you eat or in our case, create, has a huge impact on your carbon footprint.
That's why we're trying to socialize the term carbon foodprint.
From our digging, and depending on the source, your carbon foodprint can represent 14-25% of your entire carbon footprint. With this kind of impact, we're optimistically celebrating Earth Day because we can feel the food industry changing in perhaps the most fundamental way since the advent of refrigeration and thermal processing.
Technology is blossoming, there's a burgeoning awareness of the toll foods take on the environment, and more focus on soil health, food waste, and how data and automation can help make everything from farming to product development to grocery delivery more sustainable.
Curious about your own diet choices? There are a couple of great foodprint calculators out there, including this one from the New York Times. This quiz starts with a great question, and we bet your answer is yes.
Here are a few other things we're excited about.
Counting Calories? Get Ready to Count Carbon.
Just Salad has added a "Climatarian" section to their menu for selecting meals by carbon emissions and Chipotle has launched a meal foodprint calculator. These features make it easy for guests to choose responsibly. Not to mention a great way to build brand trust with Gen Z, who are sticklers for transparency, and wildly aware of climate change.
Is Carbon Labeling Coming To The Grocery Store?
At Expo West, we were excited to see so many brands marketing themselves as climate-friendly. But what, exactly, does that mean? Well, nothing yet, but if we follow Europe, which is not uncommon for the US packaged food industry, it's coming.
Many new certifications and stamps are in development and test, like these. Click logos to learn more.
Some progressive brands have already started to publish the carbon emissions on their packages, such as Oatly, Quorn and evol. Years from now, we'll look at these scores with as much scrutiny as we do ingredient declarations today.
Our Involvement
As we celebrate this Earth Day we're looking optimistically to the future, inspired by the innovation happening in the marketplace and our food lab and pilot plants.
Mattson is proud to Make Food Happen, in partnership with our amazing clients to be able to continue to feed future generations while preserving and cultivating the land we rely on. From food that is cultivated to regenerative to plant-based and upcycled, small changes can make a large impact and we're excited to work to bring these products to market.
For now we're dreaming of the day that our carbon FOODprint is the norm and we can order a delicious, cultivated burger with plant based cheese on a regenerative wheat bun with an upcycled fruit smoothie on the side.
More Earth-Positive News
Maddison Gurrola represented Mattson as contributing Food Scientist to The Ellen MacArthur Foundation's study, "The Big Food Redesign," which details how "fast-moving consumer goods companies (FMCGs) and food retailers can play (a role) to move us towards a food system with significant positive impacts for business, people, and the environment. It explores the ways in which food products can be designed in closer collaboration with farmers, for nature." Congrats to Maddison for supporting this seminal piece of work.
---
Mattson at Food Waste Solutions Summit
ReFED's annual Food Waste Solutions Summit is May 10-12 in Minneapolis, MN. The conference is integral to learning about challenges and collaborating to create impactful solutions on the quest to reduce 50% food waste by 2030. With the rise of upcycled food and our research showing consumers are looking to purchase more upcycled food in the coming years, we hope to say hello to you at the conference!
Click to connect:
CEO & Chief Technology Officer Justin Shimek will be attending
Food Scientist & UFA Standards Committee Co-Chair Maddison Gurrola will be attending