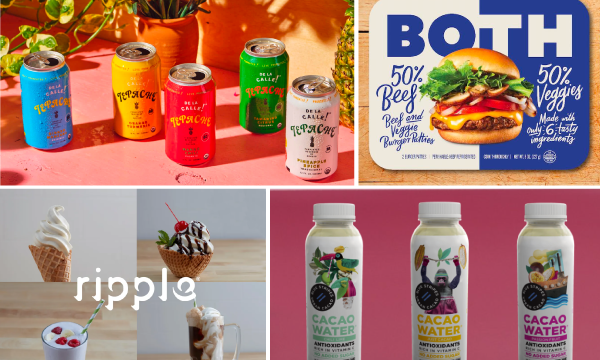 04-12-2022
Mattson Top 10 Product Picks From Expo West 2022
This year we scoured Expo West and were equal parts inspired, excited, and underwhelmed. We tasted too many (mostly plant-based) products that were rushed to market, or at least tasted that way to us. But there was also sooooo much good stuff that when we asked our team for their favorite products, it was hard to narrow to 10.
Here's our list: each one a combination of category-crushing innovation + excellent execution:
what we aspire to with every product we develop!
01. Ripple Soft-Serve Ice Cream
by Candice Lin, Associate Innovation Manager
WHY?
Because this soft serve could fool anyone, anywhere, it's that good.
Mouthfeel, flavor, and melt are spot on, with no beany/legume or other plant notes.
But it's also not just us loving it, The National Restaurant Association gave it a FABI award!
02. Tepache: The Next Kombucha? ft. De La Calle
by Barb Stuckey, Mattson Chief Innovation & Marketing Officer
WHY?
Mostly, because we'd never heard of this drink that represents so many trends in 1 product.
Authenticity: ancient Mexican heritage
Made from (what can be upcycled) organic pineapples.
Fermented for complex flavor and bubbly texture.
Mixed with on-trend fruits for refreshment.
Less sweet than sodas, with a low sugar 45 calories
Adaptogens because ya' have to these days
Cans = hip but sustainable/recyclable packaging
03. BOTH: Plant + Beef-Based Burgers
by Jaime Reeves, Mattson EVP, Product Development and Commercialization
WHY?
Because it's not another plant-based burger, it's real beef and real veggies (not texturized protein), including cooked mushrooms, carrots, cauliflower, etc.
Super moist because of the added veggies and deliciously savory from the beef.
Approachable product for traditional meat eaters to use as a swap for beef burgers while also adding veggies to their diet.
04. Miyoko's Mozz: Twirling A New Pizza Cheese
by Carol Borba, Mattson VP, Innovation
WHY?
Because it's a cheesy, creamy sauce that you drizzle, that thickens as it bakes.
It has a firm yet tender texture similar to a very fresh mozzarella.
Rather than starting with solid cheese and trying to make it melt, this product flips the model and delivers a superior product over other plant-based cheeses.
It's a great example of creative product design that leapfrogs the competition.
05. Brazi Bites Pizza Bites and Empanadas
by Al Banisch, Mattson EVP, New Product Strategy & Insights
WHY?
Really smart extensions of the hugely successful Brazi Bite line, discovered at a previous Expo.
Same delicious, cheesy, gluten-free tapioca flour crust + soft, warm inside and new tasty fillings.
Moves Brazi Bites into a new eating occasion (hearty snacking) from where they were (mealtime side).
06. Blue Stripes Cacao Water
by Katie Hagan, Mattson VP, Innovation
WHY?
Because Cacao Water is the most delicious tropical fruit juice you've never tasted!
Because the founder is a renowned chocolatier (Oded Brenner also known as Max Brenner).
Also in the line is a deliciously creamy chocolate bar sweetened with cacao fruit and cacao shell flour.
Only 3 grams of sugar.
Because… upcycling! 70% of cacao fruit is wasted as growers only want the cocoa beans.
A delicious contributor to the Latin Invasion of Expo!
07. Dairy-Based Milk? betterland foods cow-free milk.
by Laurie Troiani, Mattson Innovation Manager
WHY?
Because it's NOT plant based, yet still animal free!
It has the nutrition of dairy milk with 8g of protein, unlike most plant-based milks.
One of the first CPGs to utilize Perfect Day's precision fermented whey.
Excellent texture but a bit too sweet for our tastes.
08. Plant-Based Parmesan from… Parma by MIA
by Barb Stuckey, Mattson Chief Innovation & Marketing Officer
WHY?
Because it's plant-based cheese that actually tastes DELICIOUS.
Use of traditional cheesemaking technique to make a plant-based alternative.
This includes a critical step that most alts don't use… (wait for it, wait for it)… aging.
It breaks into shards like $25/lb Parmigiano Reggiano.
Parm is a widely-used cheese, but PB versions have been few and far between.
This team of "Italian Foodies" wasn't over-promising: they were claiming a "work in progress".
09. Impastable? Nope. New long goods frozen pasta from Caulipower.
by Candice Lin, Associate Innovation Manager
WHY?
Both the flavor (very clean) and texture (not mushy and authentically al dente!) delivered.
Sold unsauced and frozen.
Made in Italy, clean-label, too.
One of the best gluten-free pastas we've tried.
10. Probiotic Sour Cream From Good Culture
by Barbara Brueckner, Mattson VP, Innovation
WHY?
Delicious, elevated sour cream.
Made from fresh milk from pasture-raised cows sourced from family farms.
Simple ingredients (no preservatives, hormones, carrageenan or gums).
Live, active probiotic cultures.
Convenient squeezable pouch for "no mess creaming" or traditional tub.
Also available in a lactose-free version addressing a dietary problem for many consumers.