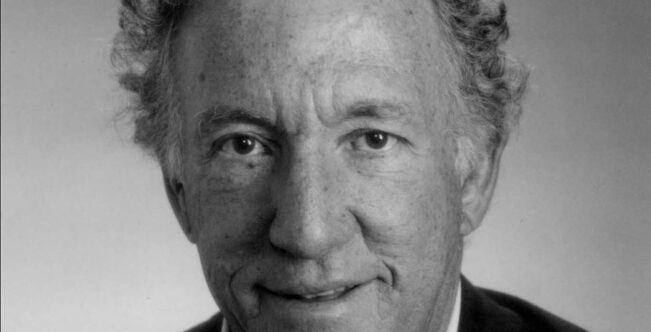 03-23-2021
Remembering Our Founder, Pete Mattson
Pete Mattson, founder of the Silicon Valley-based food and beverage innovation firm, Mattson, died peacefully Wednesday, March 17, 2021. He was eighty-two.
Pete was a towering figure in the world of food and beverage, both figuratively and literally, at six feet, seven inches tall.  His booming voice could be heard for 37 years echoing throughout the Mattson innovation center, as he invited food scientists to his office for ideation and product tastings. Pete's daughter Marianne Paloncy worked closely with him for nineteen years, and his wife Patty was also involved with the business in the early days. She died in 2016, and her loving husband joins her now, as they rest in peace.
Pete eventually sold the business to the Mattson employees. Our company mourns his death, and it is with pride that we keep his namesake going strong in its 44th year in 2021.
Pete was a creative force in the world of food and beverage innovation and the bounty of California's agriculture was often his inspiration. His compelling ideas for meal solutions, snack foods, and beverages—too numerous to count—allowed producers to compete well beyond their commodity roots, with new brands and products. This spirit of innovation continues today at Mattson."

– Justin Shimek, Mattson CEO and Chief Technology Officer
When Pete started his product development firm in 1977, new product innovation and development were rare occurrences, Big Food dominated supermarket shelves, and food start-ups were few and far between. Pete championed product innovation from the outside-in. He pitched strategies and new product opportunities to multinationals such as Kraft, Nestle, and Starbucks, driving innovation initiatives with his unwavering passion and deep intuition for what consumers wanted.
His initial hiring of a food scientist set the company apart on a unique trajectory that combined strategic, conceptual, and product development work on a parallel path.
"His sense of the market and the technical insights he and his team developed were unparalleled. He was a pioneering innovator in modern food design. Creative, wise, generous and strategic, he was the epitome of a visionary. We had the good fortune to collaborate at Odwalla and in the founding of Brand New Brands (2004), the country's first functional food accelerator."

– Will Rosenzweig, Founding CEO, The Republic of Tea and Co-founder Brand New Brands and Physic Ventures
Pete loved nothing more than getting new businesses off the ground, and was proud of his work for burgeoning brands such as Jamba Juice and popchips. His ways of working helped usher in the current innovation-driven culture that dominates today's food industry, from consumer products to restaurant menus.
"We will continue to be inspired by his incredible spirit, energy and creativity. Pete (and Mattson) were an invaluable part of the team that helped us develop and launch popchips, creating a truly new-to-the-world snack that helped define better-for-you snacking."

– Keith Belling, Founder and CEO of RightRice and Founder and Former CEO of popchips
Pete was named on multiple patented products such as Emerald's Cocoa Roast Almonds. And over the course of his career, he served as a Director on multiple boards, including the University of California, Davis's Food Science and Technology Leadership Board. He was a frequent guest lecturer, and eventually taught a class on innovation. Their College of Agricultural and Environmental Sciences honored him as a Friend of the College in 2016.
Pete also sat on the board of Round Table Pizza.
"He will be sorely missed but I will always reflect back on how he helped me over two decades. A lot of my success at Round Table is owed to him. I can't even remember how many products we developed together but it was easily over 100. I will remember the great laugh from the tall, gregarious, non-sock wearing friend that made me a successful leader. As we all reflect on our time with Pete, we are all better people."

– Rob McCourt, Former Round Table CEO
His work on the board of Orange Julius, a quick-serve, frozen drink concept, inspired the Mattson company's work on the industry's first ice-blended coffee beverage.
Pete was passionate to a fault, often pushing clients to see a different future, which he saw so clearly. His concept pitches inspired, energized, and entertained clients, with meetings evolving into laughter, joke-telling, and ultimately, wine-filled dinners at some of the San Francisco Bay Area's best restaurants, or his own home, where he and Patty showered clients with hospitality and good food.
Pete was a mentor to countless professionals working in food and beverage today, both inside the company he started, and beyond.
"For years I worked at his side, learning the business from his perspective as an innovator. He taught me how to think creatively, and how to listen for the unspoken opportunity to help our clients, way before they knew what they needed. He was a character, a mentor, and a friend."

– Barb Stuckey, Mattson President and Chief Innovation Officer
The industry has lost a giant, but Pete's work lives on in grocery stores, at restaurants around the world, as well as at his namesake company, Mattson.
Pete was a champion and philanthropist of forest conservation, and in lieu of flowers, his family has suggested donations in his name to:
The Sonoma Land Trust
Redwood Forest Foundation
Save The Redwoods League