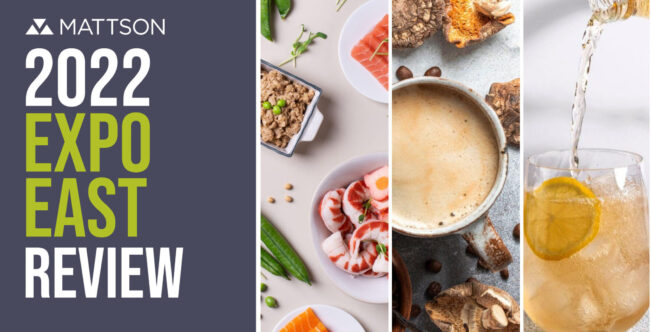 11-02-2022
Savor Our Trends & Insights From Expo East 2022!
After attending 3 Expos in a row: 2021 East in Philly, 2022 West in Anaheim, and 2022 East in Philly, we're feeling optimistic here at Mattson!
We're excited to share with you our perspectives from this year's Natural Products Expo East. But it's not just cool, new, and delicious products that caught our eye. It's the larger trends they represent that's most exciting to us. With insights from our VP, Innovation and Chief Innovation Officer, we hope you'll enjoy the read.
Download the free report, grab a cup of relaxing, upcycled, plant-based, alcohol-free mushroom coffee, and let us know what you think.
Let's talk!
The employee-owners at Mattson
Contact@MattsonCo.com