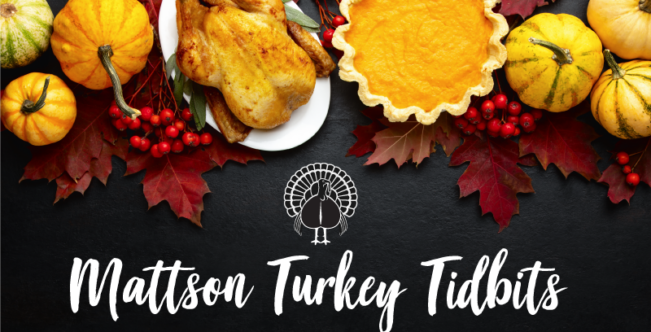 11-23-2021
Turkey Tidbits + Happy Thanksgiving!
It's hard to believe that this is our second pandemic Thanksgiving. We're beyond thankful for making it safely through thus far, with a healthy team and a healthy business.
This year we're gently reminding everyone that the #1 contributor of food waste is at the household level: 37.2%, according to ReFed's Food Waste Monitor. Yes, that means all of us.
So, this holiday season, we're providing suggestions for surplus food within your household.
Most of all, we are grateful for YOU: our current, past, and future clients, supplier partners, F&B media, and our followers, wherever you are.
HAPPY THANKSGIVING,
The Employee Owners at Mattson
MEMBER OF
---
FROZEN PORTIONS OF BROTH
FROM CANDICE LIN, ASSOCIATE INNOVATION MANAGER
I separate the turkey meat from the carcass and then make broth with the onion, celery, and carrot odds and ends leftover from the main event. I love having a pot of broth simmering on the stove and then pouching up the cooled broth in 2 cup increments to freeze. It's great to have homemade broth on hand for my next batches of soup!
PETITE POT PIES
FROM MAYA GALSON, GROUP MANAGER PRODUCT DEVELOPMENT
Using turkey leftovers for pot pie is a classic, but I find I'm not ready for the flavor again in such quantity until way after the holiday season. Thus, these hearty pot pies sit in the freezer forgotten for some time. Making them single serve is a much faster proposition. This also allows you to customize the pies – different fillings, different versions of the bechamel, etc. I like to use muffin cups – better yet if the bottom pops out for easier clean up and transfer to a freezer bag. If you make your bechamel thick enough, you can also attempt a free form hand-pie style.
THANKSGIVING CASSEROLE
FROM SILVINA DEJTER, SENIOR CULINARY PRODUCT DEVELOPER
After breaking down the turkey and getting the stock going, I cube the turkey meat. Most of it goes in the freezer along with the turkey stock, but there's always enough left over for this, my husband's favorite Thanksgiving-related meal. I take all the leftovers and spread them in layers: I usually start with stuffing and end with mashed potatoes, but the rest is free-form. (The only thing that stays separate is the cranberry sauce.) Apparently, he likes it because he can get all the Thanksgiving flavors in one convenient forkful!
TURKEY ENCHILADAS
FROM DOUG BERG, VICE PRESIDENT, GROUP MANAGER PRODUCT DEVELOPMENT
Combine shredded turkey with some sauteed onion, shredded cheese, mild green chiles and enough enchilada sauce to make the mixture cohesive. Fill soften corn tortillas with the mixture, place in a baking dish, cover with additional enchilada sauce, top with additional shredded cheese, some sliced olives, and bake until hot and the cheese has melted. Serve with fresh cilantro, sour cream, and chopped onions.
TURKEY TETRAZZINI
FROM KATHY WESTPHAL, SENIOR FOOD TECHNOLOGIST
Leftover turkey always goes into Turkey Tetrazzini in my house. Named after the famous San Francisco Opera star, Luisa Tetrazzini, it is a Bay Area Favorite. You can find a great recipe here.
STUFFING MUFFINS
FROM STEVE GUNDRUM, CHAIRMAN & CHIEF CREATIVE OFFICER
As long as I can remember, we've always formed leftover stuffing into small balls, and used them as a side dish with turkey leftovers. Most of the time, we serve them like dumplings/matzo balls in a soup. Delicious.
We'll even make extra stuffing, and bake a couple of cupcake pans of stuffing muffins! A family favorite.
TURKEY CONGEE (RICE PORRIDGE)
FROM LETITIA CHONG, PRODUCT DEVELOPMENT TECHNICIAN
We like to take our turkey leftovers and make a comforting pot of congee or rice porridge. In a large stockpot (about 16-20 quarts), place the turkey carcass (putting it in a muslin bag keeps the small bones from getting into the congee), cover with water, and add 2-3 cups of uncooked medium grain rice. Add a thumb size knob of ginger to the pot and bring it to a boil. Let it simmer partly covered over low heat for 1 1/2 -2 hours, giving it a stir every so often to keep it from sticking to the bottom. Add water as necessary (making it as thick as you like). My mom likes to cook hers for 3+ hours for a super smooth and creamy consistency.
For serving, you can add some of the leftover turkey (or chopped ham if you have it). We like to keep it simple with a little white pepper, a scattering of scallions, and a few slivers of fresh ginger, but you can add whatever toppings you like. The options are endless (some suggestions: fried garlic or shallots, sesame oil, chopped roasted peanuts, bacon, fried egg, etc)!
TURKEY SANDWICHES
FROM KATIE HAGAN, VICE PRESIDENT, INNOVATION MANAGER
My family likes next-day turkey sandwiches even more than turkey on the big day. On sourdough (of course), we pile on turkey, mash, cranberry sauce, stuffing, and maybe some lettuce to feel healthy – and turn on the football!
So with little meat left on the bone, I always make turkey stock and stow it away in the freezer for the next soup, stew or risotto.
BREAKFAST TURKEY HASH
FROM BARB STUCKEY, CHIEF INNOVATION & MARKETING OFFICER
This is now a favorite at my house, ever since Mattson Chief Creative Officer Steve Gundrum served me his version. I dice potatoes and sauté them until soft, then add diced onions, diced turkey, and a ridiculous amount of butter. Cook until the onions have softened and the turkey and potatoes show crispy, buttery edges. Season with salt and garnish with leftover fresh herbs like thyme or sage.
---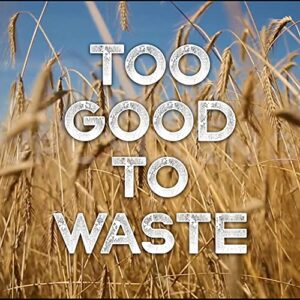 Listen to Maddison Gurrola, Mattson Food Scientist discuss food waste on the Too Good To Waste Podcast