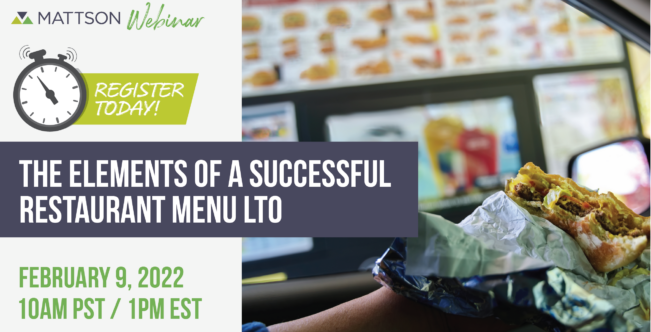 01-20-2022
Webinar: The Elements of a Successful Restaurant Menu LTO
When we think of the foodservice industry these days, the word that comes to mind is resilience. With myriad challenges and pressures over the past two years–that continue today–we are in awe of how the good operators keep operating, innovating, and thriving. One key strategy for keeping brands fresh and customers coming back again and again is to offer limited time menu items.
Please join Mattson for a webinar featuring Mattson's Chief Creative Officer and LTO expert Steve Gundrum, who will be joined by Pat Cobe, Senior Editor at Restaurant Business Magazine, and Kristi Bullock, Director of Menu Innovation at Tropical Smoothie Café, one of the highest growth fast casual operators in the industry.
We'll share some of the insights we've gained from our 2021 QSR study on LTO attitudes and behaviors, followed by a panel discussion on all things LTO, from burgers and bacon jam to bowls and BTS.
Act now! This limited time offer will end on February 9th!
Webinar Date: Wednesday, February 9, 2022
Time: 10:00am PST / 1:00pm EST
Speakers:
STEVE GUNDRUM
Chairman & Chief Creative Officer
Mattson
PATRICIA COBE
Senior Editor
Winsight Media's Restaurant Business and FoodService Director Brands
KRISTI BULLOCK
Director of Calendar & Menu Innovation
Tropical Smoothie Cafe
---
Please join Mattson Associate Innovation Manager Melanie Lai for Prepared Foods' webinar January 27th:  Bakery & Snacks Meet Consumers' Evolving Preferences: What's Ahead for 2022 and Beyond.
---
Join our mission to create the future of food one product at a time.
We are seeking a Vice President, Innovation and a Commercialization Manager to join our employee-owned team of passionate foodies